Know The Facts and Protect Your Data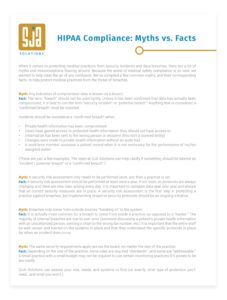 When it comes to protecting medical practices from security incidents and data breaches, there are a lot of myths and misconceptions floating around. Because the world of medical safety compliance is so vast, we wanted to help clear the air of any confusion.
Don't wait until it's too late; your data and business deserve a proactive approach.
Download the Medical Data Security Guide
Grab your copy of our 8 Myths vs. Facts of Protecting Medical Data Security Guide below.
We practice what we preach. Your data is secure, and we won't use it for anything else without your consent.
Contact us to learn more
We'd love to hear from you. Fill out the form or call us at (616) 451-2045.
READY TO START THINKING AHEAD?
Coffee, lunch, beer - you name it. If you'd like to learn more about what a new technology partnership could look like, let's set up a time to chat.